Kaldi was present at the Allegra World Coffee Portal CEO forum in New York. A beautiful event with interesting speakers as Jeffrey Young (owner Allegra Group), Amber Jacobsen (Toby's Estate) and Maja Wallengren (Independent Coffee Analyst). In this article I will give you some information about, and insights in, several espressobars we visit during the Manhattan and Williamsburg Coffee tour.
Seven Grams Caffe, 275 7th Manhattan
Seven grams punchers way above its weight through an enviable combination of great looks ( including white walls hung with interesting art), eager service and delicious baked goods all made in-house. It would be worth coming here even if the place didn't seek such good coffee – but the coffee is great, small doses of ground Fairtrade beans crowned with latte harte that's inventive and highly skilled. Chelsea may have a lot of others coffee spots to visit, but you should consider tipping the scales in flavor of a visit to this one.
Variety Coffee Roasters, 261 7th avenue, Manhattan
Variety has made its Manhattan debut with a gorgeous corner spot in Chelsea. A large neon sign provides a great welcome and the interior is truly superb with beautifully designed tile floors, seating along the walls and on-trend lighting. Wether meeting up with friends or using the space as your new favorite study stop, its versatile interior makes this new location the perfect spot for everyone. Enjoy a delicious cup of single origin, ethically sourced coffee, which is roasted locally. These Bushwick roasts are on-sale in store, so you can certainly take your beans to-go and brew at home! The food menu is also worth noting, particularly for its variety of vegan options. From its origins in laid-back Bushwick. Variety Coffee is a truly welcome addition to the fast-pace Manhattan coffee scene.
Devocion, 69 Grand street, Brooklyn
You can enjoy the world finest artisan Colombian coffees here at this sprawling cafe, as Devocion sources and purchases all their coffee from Colombia. The shop reflects this focus with its spectacular space, outfitted with its roasters in the front where you can see the roasters hard at work. The main room is an impressive chamber, bursting with sun from a center skylight. The space is huge, with plenty of tables and deliciously sunken-in couches, accented by an incredible living wall, with impressive plants all native to Colombia.
Toby's Estate, 125 North 6th street Brooklyn
Williamsburg wasn't complete until Toby's came to town. Everything on the menu (both beverage and food) is worth making the trip for, but go for the bright single-origin espresso, straight up. Trust us, there really is a difference between this and the house blend espresso, especially fresh as the beans are roasted in front of you. Toby's near-flawlessness extends to the friendly, efficient service and the stylish, comfortable, loft-reminiscent design – which is often mobbed with laptops. Before you go, you can also have the signature flat white, so smooth and rich it takes you to another world.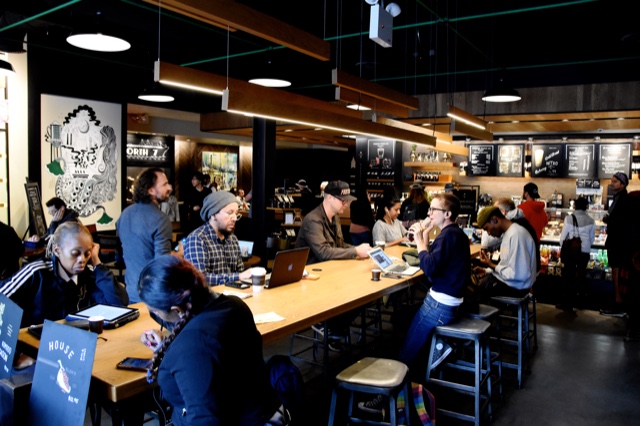 Starbucks Reserve, 154 North 7th street Brooklyn
For polish and breadth of offering, few places in Williamsburg can match Starbucks. This is their flagship store, one of the locations offering the chain's 'Reserve" range, lots of rare and exquisite single-origin beans. It's als a place where you can think well outside the espresso box, with an exceptionally wide range of alternative brewing methods. You're just as likely to stand in line behind moms pushing strollers as college students on their phones. Starbucks may be a global brand, but Starbucks Williamsburg is a genuine local hangout.
Source: The New York coffee guide (www.newyorkcoffeeguide.com)